Piezoelectric
A Better, Faster Way of Recovery. Non-Surgical Foot and Ankle Orthopedic Care.
At Hecker Sports Medicine®, we are always looking to provide patients with the right solution for their ankle and foot pain. Dr. Hecker and his team of highly-educated professionals strive to offer non-invasive and minimally-invasive procedures for people dealing with pain without the need to resort to surgery.
Surgery can be a solution to pain and discomfort to some of the more serious problems, but in most cases, it is not ideal, as it often leaves scar tissue that can become a different problem down the road and it requires the patient to go through arduous recovery periods coupled with physical therapy.
Our body has the natural ability to heal itself and with the right treatment, we can improve on that healing process to make it more efficient and act quicker. That's why we bring you piezoelectric — we'll have you feeling better in no time!
What is Piezoelectric Impulse Therapy?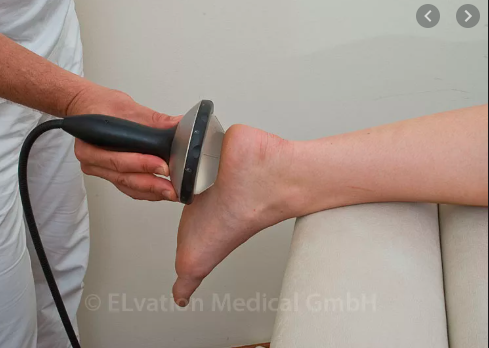 Piezoelectric impulse therapy, also known as shockwave or focused shockwave therapy, is a non-invasive solution to pain that has been proven to be extremely effective when treating the musculoskeletal system — it's not electrical, radial or air shock therapy.
This therapy works by sending pulses throughout the treated tissue to improve the pace of healing and promote its regeneration process, helping your body to work more efficiently in the area. The pulses from the therapy hit the scar tissue and calcific fibroblasts, stimulating and promoting remodeling injured tissue and healing in the area.
Dr. Thomas Hecker uses the most advanced shockwave system. Unlike other methods that use low impact air or radial impulse, Piezo is a unique electromagnetic impulse system that uses a non-inflammatory stimulus to tissue producing a more complete recovery of the injury.
What can Piezoelectric Therapy Help With?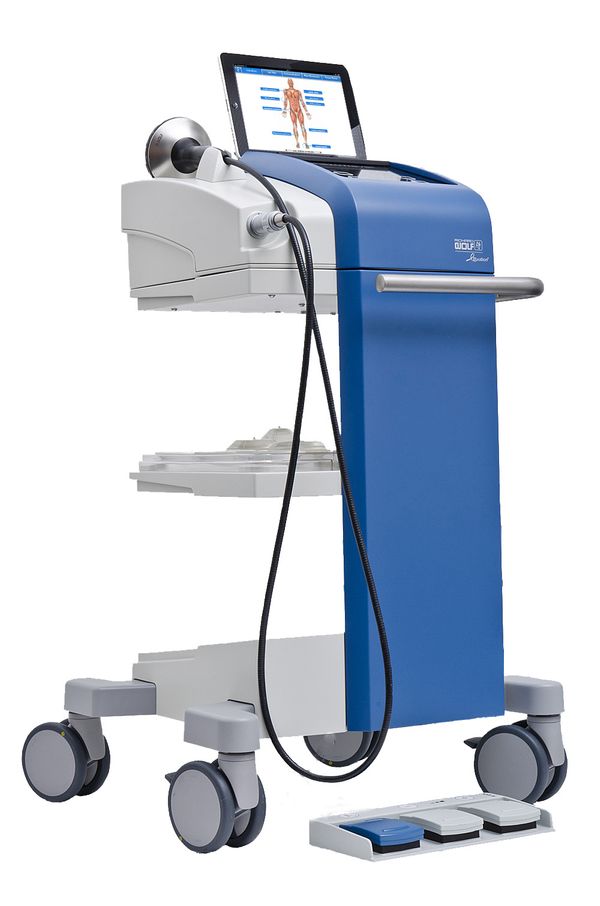 Piezoelectric therapy has many benefits and positive effects that will help your feet and ankles feel better. You can expect the following effects:
Promotes increased healing in the affected areas

Reduces and eliminates pain

Reduces muscle tension

Helps tissue metabolism by improving on microcirculation

Increases the production of collagen

It helps your body to get rid of chemicals that can produce pain like Substance-P (this chemical is also associated with inflammation)
This therapy can be used without needing x-rays or drugs, and, as it is a non-invasive procedure, it does not require the use of anesthetics. In most cases, shortly after the first treatment, patients notice reduced pain as well as improved mobility.
At Hecker Sports Medicine®, we always strive to help our patients with exactly what they need to improve on their condition and diminish the pain and discomfort. Read more from our patients that have successfully enjoyed the benefits of our non-invasive procedures.
What can Piezoelectric Therapy Help With?
Why would I use piezoelectric therapy?
You can use piezoelectric therapy to improve the natural healing processes of connective tissue, muscle, tendons, and ligaments of the body in the affected areas. It also helps to quickly reduce pain.
How long does the therapy take?
Each session can last ten minutes. There's a waiting period of 1-2 days between each session, depending on the patient's response and tolerance.
Will I feel pain after the treatment?
Unlike surgery and other invasive treatments, piezoelectric therapy can provide relief almost immediately. Some people have reported mild soreness in the area for a few hours following the procedure. Many patients have also reported that the soreness is very tolerable.
Do I need to fully rest after each procedure?
Piezoelectric therapy is a non-invasive procedure that provides an alternative solution to painful surgery. It is recommended to continue physical activities in conjunction with stabilizing support prescribed by Hecker Sports following the treatment follow prescribed limited restrictions.
Remaining active is strongly encouraged by Hecker Sports to encourage quicker recovery.
What can I treat with piezoelectric therapy?
There are many areas that can be treated with piezo therapy. At Hecker Sports and Regenerative Medicine®, we focus on the following:
Achilles Tendinopathy

Plantar Fasciitis

Ankle and Foot Pain

Scar Tissue Treatment to reduce or eliminate scars

Muscle injuries
Dr. Hecker is always looking for new alternatives for patients to treat problematic areas without the need for expensive and invasive surgery and procedures. The team at Hecker Sports Medicine® is here to help you understand the source of your pain and discomfort, help you make an informed decision to choose the right non-invasive procedure, and help you through your process to have you feeling better in no time.
If you have been dealing with foot and ankle pain and are not sure what the problem is or how to treat it, contact us today and we will be happy to assist you and answer any questions you may have. If you are ready to schedule an appointment click the button below!