New Patient 30-Minute Consultation, $100
Your Strength Renewed
Advanced Sports Medicine & Non-Surgical Treatments for Foot & Ankle
See What People Are Saying About Us
These are the folks to see.

"I had long term heel pain issues from an old achilles tendon injury that has bothered me most of my adult life. In 2022 the pain got so bad that I was limping all the time and couldn't put my full weight on my right foot due to the heel pain, as well as throwing my gait and biomechanics totally out of alignment. After many short term treatments over the years, the pain always returned. After checking out the Hecker Sports website and a recommendation by my PT, I went in to see Dr. Hecker in the fall of 2022. My treatment plan was for a full course of three different lasers for two months. I am happy to say that the lasers worked wonders for my heel pain, and I am back doing all my fitness activities, including running, hiking, biking and swimming again, and am 95-100% pain free. I am thrilled to feel this good again and treated myself to two long hikes in the Grand Canyon last November with no heel pain issues at all. The entire staff at Hecker Sports are helpful, friendly, courteous and professional..."

- King Pakal

Thanks, Dr. Hecker!!

"After struggling with ankle issues for many years, I reached out to Dr. Hecker and his team for prolotherapy and laser treatments. I was determined to get to the top of Mt. Kilimanjaro. With his practical help, PT, and determination, I reached the top...pain-free! I highly recommend him as an alternative to surgery! Thanks, Dr. Hecker!!"

- Lexi Cire

I highly recommend!

"I highly recommend Hecker Sports Medicine! I partially tore my Achilles and calf on October 12 playing indoor soccer. I was in significant pain, and not having been injured like this previously I even worried it was a fully torn Achilles. I called multiple providers and fortunately Jessica at Hecker Sports Medicine took my call. I am so grateful to Jessica and the team as they were able to squeeze me in that first day; I love a business that makes it happen and values their patients! (Side note—the big practice in town couldn't see me for NINE days and I'm pretty sure it would not have been the right treatment). Dr. Hecker and his staff were able to quickly rule out surgery and they set me up on a treatment plan that very quickly showed results. Thanks to Ryan, Patrick, and their assortment of magical tools (though I wouldn't say every session felt good haha) my pain was quickly gone and soon I was back to walking. I have since progressed to physical therapy which is well-coordinated with Dr. Hecker..."

- Matt Clark

The staff are wonderful.

"I had both Achilles torn. I have been miserable and limping for 5 years. Everyone always wanted to recommend surgery with no guarantees so I held off. No surgery and within two weeks I was so excited about my appointment because my pain was reduced dramatically. I waited six weeks to do all my treatments and can really say I am healed and am already playing soccer with the kids. Definitely recommend this place and recommend to do what the Dr says. The staff are wonderful from the front to the back. I'm almost sad that I'm better, I love this place."

- Philip Lukens

Safe and incredibly effective.

"I am a 43 year old former athlete who is dependent upon physical activity as a means of maintaining good mental health and stress reduction. I just completed treatment on a severely torn plantar fascia/ruptured ligaments/ soft tissue damage from a climbing injury I suffered over a year ago. Not only did Dr. Hecker give me confidence that there were alternative treatments besides surgery that could heal my injury, but he gave me hope that after completing my treatment I would have a foot that was as strong and healthy as it was prior to my injury. The entire staff was helpful, knowledgeable, kind, and efficient, and after only 5 1/2 weeks of treatment, my foot is completely healed with no evidence of scarring or disrepair. In addition, he urged me to maintain a (slightly modified) exercise regimen that was as close to normal as possible throughout my treatment, because it would aid in tissue regeneration. This was a stark contrast to the standard recommendation of surgery to repair and 3 months of..."

- Stacy Bustamante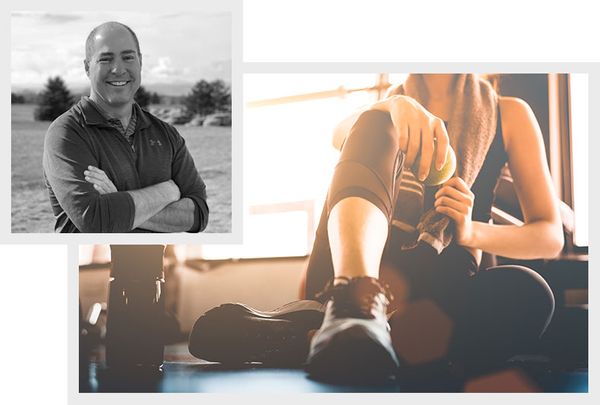 Foot & Ankle Clinic In Fort Collins
Hecker Sports Medicine's focus is on advanced non-surgical treatment options that help you feel and be like new – not just better. With an educational and patient-centered approach, Dr. Hecker and his team provide a focused approach to sports medicine and foot and ankle care in Fort Collins for people of all ages, abilities, and incomes. His philosophy is to help you feel and be like new, not just better, and all in an affordable way.
Hecker Sports Medicine
Top Rated Local® Advanced Medicine
Dr Hecker | foot & ankle specialist
Dr. Thomas Hecker is committed to continuing education and advanced patient-care.
A Better Approach to Foot and Ankle Care
Your feet are truly the foundation of your body. The moment you start having problems and pain in your ankles and feet, it can affect every aspect of your life keeping you from being the best you.
If you are suffering from a chronic foot problem or your feet simply "hurt," you need more than just temporary comfort. Dr. Tom Hecker (Podiatrist Fort Collins, Colorado) established his foot and ankle clinic to provide advanced nonsurgical care using both alternative and new therapies, including traditional treatments.
Affordable treatment that will provide both care-free and long-term comfort, exactly what you deserve.
Schedule Your Appointment Now